Benevolent Fund "Mothers and Children" named after Rev.Daniel Sysoev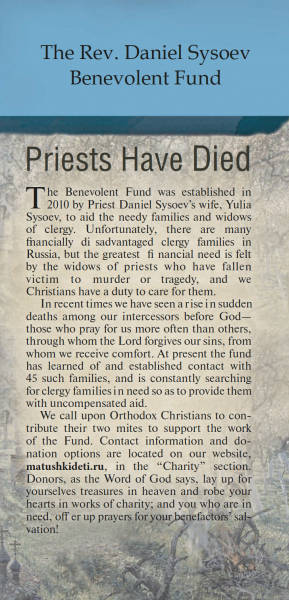 matushkideti.ru (in Russian Language)
momsnkids.org (currently under translation into English)
The Benevolent Fund was established in 2010 by Fr. Daniel Sysoev's matushka, Yulia Sysoeva, to aid the needy families and widows of clergy. Unfortunately, there are many financially disadvantaged clergy families in Russia, but the greatest financial need is felt by the widows of priests who have fallen victim to murder or tragedy, and we Christians have a duty to care for them.
In recent times we have seen a rise in sudden deaths among our intercessors before God – those who pray for us more often than others, through whom the Lord forgives our sins, from whom we receive comfort. At present the Fund has learned of and established contact with 45 such families, and is constantly searching for clergy families in need so as to provide them with uncompensated aid.
We call on Orthodox Christians to contribute their two mites to supporting the work of the Fund. Contact information and donation options are located on our website, matushkideti.ru (in Russian Language). Donors, as the Word of God says, lay up for yourselves treasures in heaven and robe your hearts in works of charity; and you who are in need, offer up prayers for your benefactors' salvation!
If you want to make a donation, you may use the following methods:
1. Send check to address: 41 Las Brisas blvd, Voorhees, NJ, 08043
2. Wire transfer: SWIFT: CITIUS
ABA/Routing Number 021000089
CITIBANK, N.A. 2201 86th street, Brooklyn, NY, 11214
Daniel Sysoev Inc.
Acc. Number: 4989398433
3. PayPal: mission379@gmail.com
4. Transfer via Zelle: 609-608-83-03
Use this button to make a donation with your debit/credit card or PayPal account